The Digital Mix benefit last night for EFF was a highly entertaining mix of music, art, education, and motivation.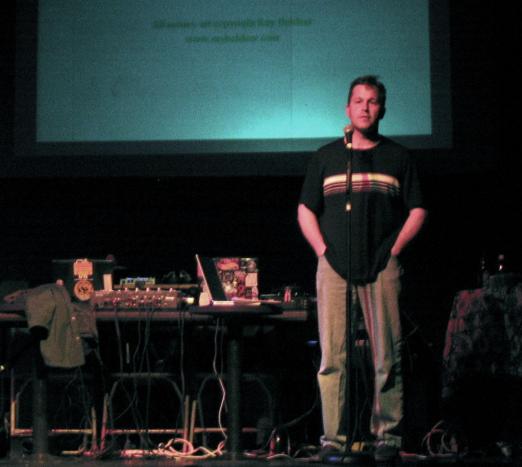 Ray Beldner, a local artist and educator, talked about the Illegal Art exhibit that has been showing at Fort Mason for the last three weeks. Unfortunately, today (Saturday the 26th) was the last day. Ray has created some very cool art works using US currency to emulate works by artists like Duchamp, Picasso, and Warhol. It turns out that defacing currency actually isn't illegal, at least not seriously so, unless you do it with the intent to defraud someone, e.g., by making a $1 bill look like a $100 bill. I wonder if he was disappointed when he learned that he wasn't as much of an outlaw as he thought he might have been. Of course, he's still under potential legal and financial pressure from the estates of the artists he has copied. Ray showed photos of some of his work and work by other artists at the exhibit. He told several cautionary tales about how many of the artists involved with this exhibit have been threatened with legal action that has forced them to destroy previous works and alter their plans for future works.
FreshBlend performed before Ray spoke, but I had arrived too late. The first musical performance of the night I did see/hear was the polka electronic death country musical stylings of Mochipet. Unfortunately, the sound level was way too high for the acoustics of that room, and most of the audience quickly made their way back to the front room. You can download some of David's music from his website.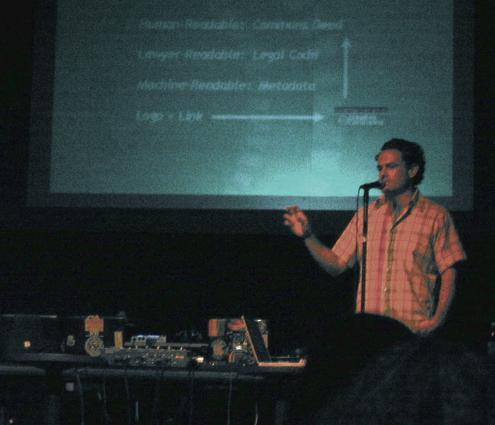 Glenn Brown, the executive director of Creative Commons, gave an excellent summary of what Creative Commons is all about. If you haven't seen it yet, I highly recommend watching the animated short at the CC website. That will give you a similar overview of the basics, at least.
Check out my previous post for an experiment with PhoneBlogger at the Digital Mix show. I tried to phoneblog one of the speakers, but the sound level wasn't high enough from where I was sitting. Obviously cellphone designers design the mic placement to pick up just the person speaking into the cellphone from a very close distance. In this case, what would normally be considered background noise was the desired signal.
I wish I had tried to phoneblog part of Cat Five's performance later that night. However, I didn't think my attempt with Uprock had succeeded, so I didn't even try. The audio quality of my telephone recording of Uprock isn't that great, but it will give you a decent feel for their music. The heavily saturated visuals were pretty cool, but they really needed more material, as the images repeated a little too frequently to keep things interesting.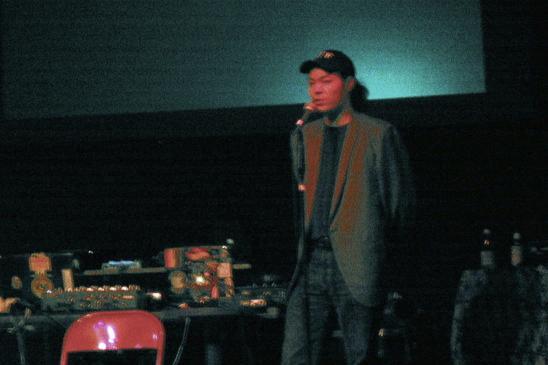 Fred von Lohmann, an intellectual property attorney with the EFF, gave a very educational and motivational speech about why it is incredibly important that each of us act now to defend our digital rights. He's a really great speaker, which is obviously extremely important, given the vital litigation work he performs for the EFF. If you haven't donated to the EFF recently, do it soon. That means me, too. I was member number 323 when I joined back around 1990, the year the EFF was founded. I still have a 3.5″ floppy disk labeled "EFF-Austin InfoDisk version 1.0 August 1992" that I picked up at a meeting along with a floppy disk Bruce Sterling gave me that is stamped Garbage In Garbage Out. EFF accidentally fell off my list of charities to donate to one year, and I kept forgetting to put them back on the list. Lazy, lazy, lazy. I won't forget this year, though.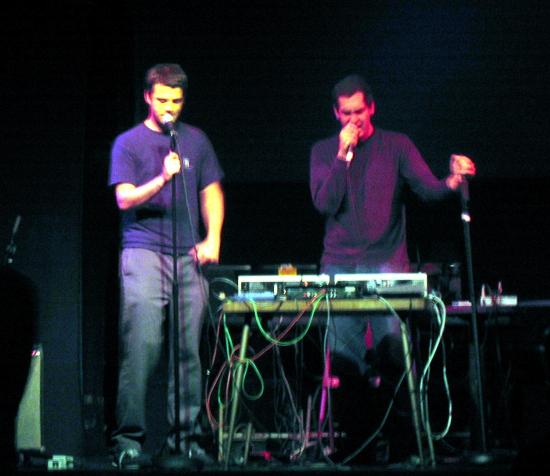 Meanest Man Contest definitely stood out from the other performers, if for nothing else because of the vocals and the guitar, though the guy on the left didn't happen to be playing it when I took this photo. Check them out if you like intelligent rapping over sampled, cut-up music.
One downside of seeing a live performance of laptop music is that most of what you usually see are a couple people seated at laptops with the backs of the laptops facing you. Other than watching them move around a mouse and tap on the keyboard, they might as well be behind a wall. Mochipet's performance would have been a lot more interesting if I they had projected the image from his laptop up onto the big screen. Some of the other groups has some interesting videos projected on a big screen behind them, which leads me to…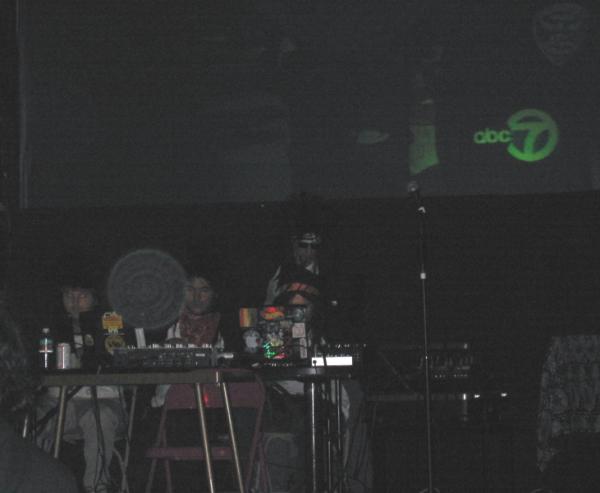 Cat Five walked out wearing fright wigs, settled in behind their Mac laptops, cranked up the dry ice smoke, and launched into "American Military Operations". The visual collage projected during their performance was a great backdrop for their music. This was definitely my favorite performance of the evening. The above photo has some weird artifact in between the two guys on the left. This is not a UFO, a ghost, a dinner plate, or a part of the show. Stuff like that sometimes happens with my camera when I try to take photos with way too low light levels. I had to crank the brightness way up from the original image. Anyway, Cat Five were very cool and you should definitely check them out if you get a chance.